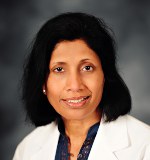 Visit Dr. Sureddi's Website
Hospital Affiliations
Medical Center of SE Oklahoma
Specialty Area:
Obstetrics & Gynecology
Physician Group:
Doctor's Clinic of Bryan County
About

Meet Dr. Sureddi's
---
Dr. Devi has been practicing in Durant for over 30 years. Dr. Devi has been trained on the da Vinci Surgical System allowing her to perform minimally invasive procedures. This may result in less pain, shorter hospital stays and quicker recovery times for patients.
Location

Hospital Affiliations
---
Medical Center of SE Oklahoma
1800 University Blvd.
Durant, OK 74701
View Map >

Physician Groups Locations
---
Doctor's Clinic of Bryan County – Durant
1400 Bryan Drive, Suite 300
Durant, OK 74701
Phone: (580) 924-1700
Fax: (580) 924-1736
View Map >
Credentials & Education

Education
---
Medical Education:
Guntur Medical College, Guntur India
Internship:
New York Infirmary, New York, NY
Residency:
New York Infirmary, New York, NY